'A TIMELESS DESIGN WHICH INCORPORATES SIMPLE LINES, CREATING EVERLASTING BEAUTY'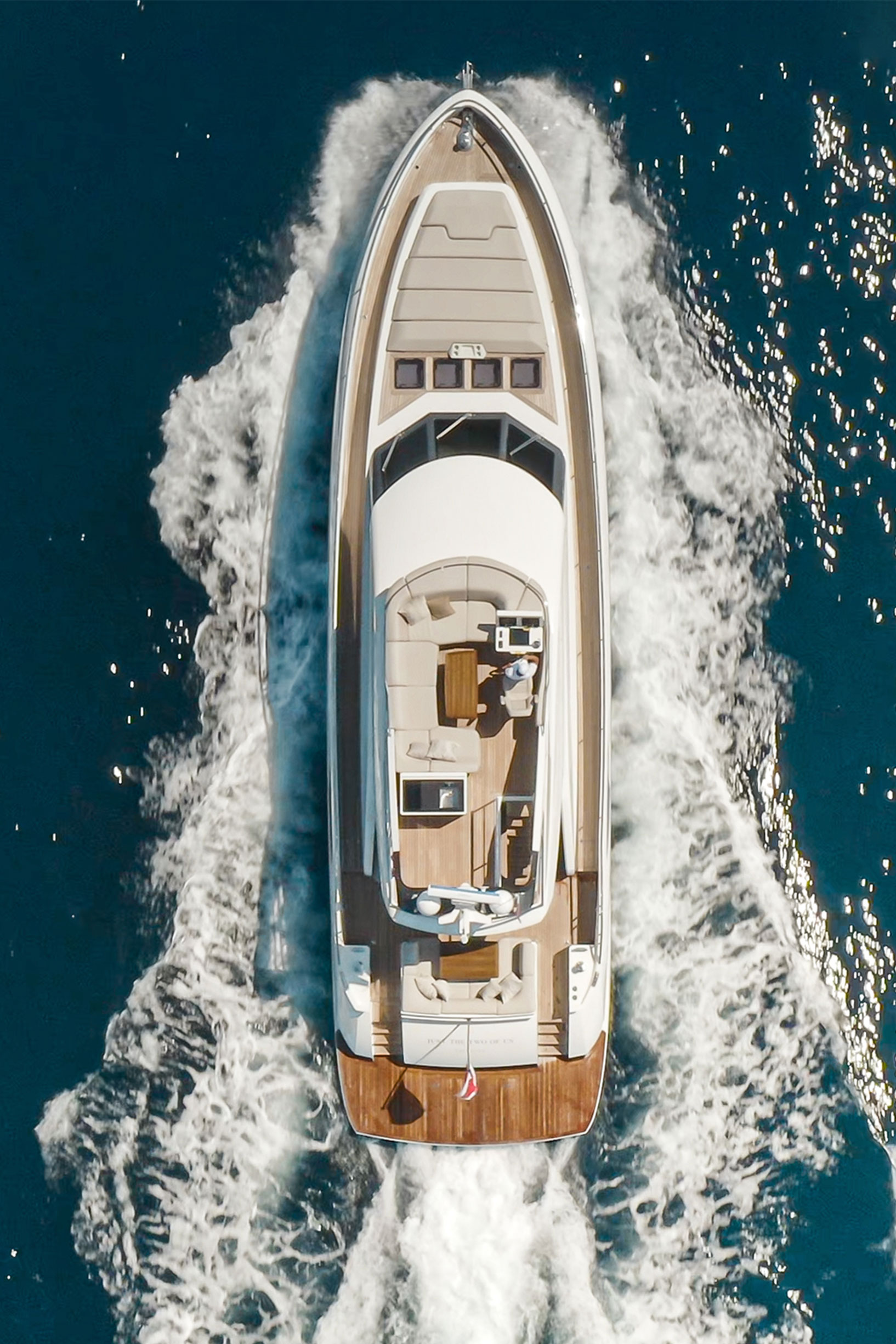 PROSPERITY

True prosperity is a sense of calmness, a stress-free state of mind with which there lie no obstacles on the road ahead, only opportunities.
It is waking up on this amazing yacht, walking out on the deck and deciding what your next destination will be without any limitations.
The Felicitatem, which translates to prosperity, has everything one could wish for in a yacht, and some more. An ideal companion for longer travel overseas, but also a stable partner for a day out on the water.
On the Sichterman Felicitatem you comfortably cruise the sea by day, and you sleep like a charm at night in the luxurious suites.
The ideal vessel to explore multiple harbours, bays and beaches
along in a luxurious fashion.
The Felicitatem is a full aluminum yacht designed by Cor D. Rover and engineered by Van Oossanen.
The creation of excellence

Beauty is always in the eye of the beholder, but quality can be measured. The reason why we combined our vision with true Dutch craftsmanship and the passion of our amazing people.
The Cor D. Rover team really surpassed itself, creating a timeless design, for both the exterior as well as the interior.
The Fast Displacement Hull Form (FDHF) and the Hull Vane by Van Oossanen, combined with Seakeeper technology, result in superyacht comfort and efficiency, saving up to 20% of fuel.
The Felicitatem has 3 sundecks, a Sonos entertainment system and an airconditioned lounge with floor heating.
Up to six guests can overnight in two master bedrooms and a twin bed cabin. The yacht can receive up to 14 guests.
A flybridge with steering and a separate captain's cabin assures both top service and privacy.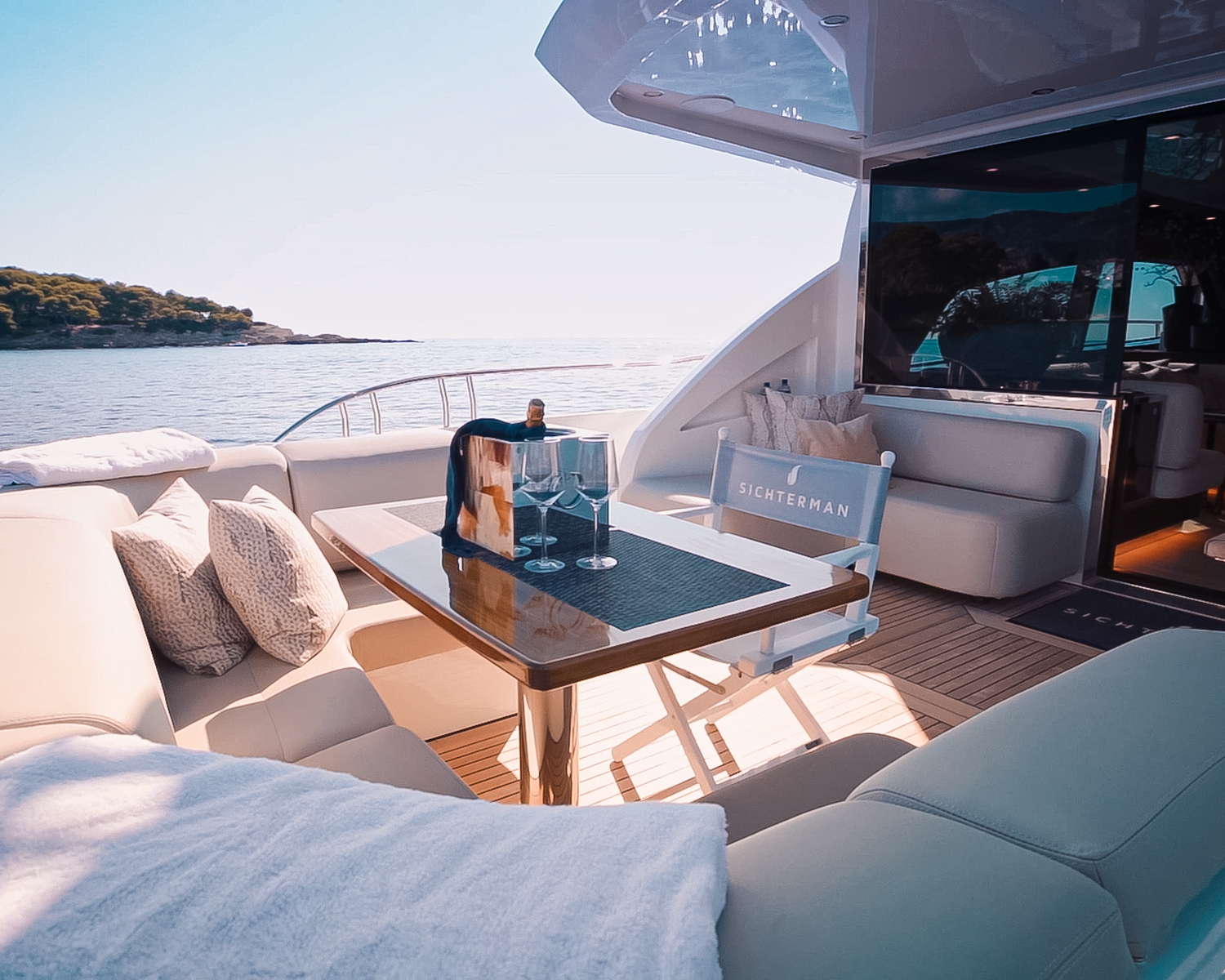 Sichterman has set up an interior program, which makes it possible to build yachts considerably faster than its competitors at a set price.
Unlike other yacht builders, the interior of the boat can be built simultaneously with the development of the aluminum casco, by using mock-ups of the entire ship. As a result, Sichterman is able
to reduce the construction time for a yacht up to 6 months compared to its competitors, guaranteeing the delivery of a yacht within 7 months.
Everything on the inside of the yachts is built by hand by a dedicated team of craftsmen. For clients who wish to have their Sichterman tailor made, a bespoke option is possible, in consultation.
Every customer can select a perfect fit from 3 types of predefined styles. The common denominator of these designs is a homely and comfortable feel, without being busy or old-fashioned.
This resulted in 3 types of interior styles, which are contemporary but also warm and inviting.
| Specification | Value |
| --- | --- |
| Design | Cor D. Rover |
| Naval Architecture | Van Oossanen Naval Architects |
| Builder | Workumer Yachtservice |
| Design Category | ISO Category A |
| Construction | Aluminium |
| Length over all | 20,63m / 67.68 ft |
| Beam | 5,40m / 17.71 ft |
| Max. passengers | 14 |
| Cabins | 2 doubles, 1 twin, 1 captain's cabin |
| Sundecks | 3 |
| Specification | Value |
| --- | --- |
| Engine | 2 Cummins QSB 6.7 550 HP |
| Cruise speed | 17 knots |
| Top speed | 22 knots |
| Range | 1.000 nm |
| Fuel capacity | 3.500 liters |
| Fuel consumption | 51,2 liters per hour at cruise speed |
| Fresh Water Capacity | 1.750 liters |
| Black Water Capaity | 350 liters |
| Hull | Fast Displacement Hull Form (FDHF) by Van Oossanen. Hull Vane TT-shaped, fixed type |
| Special feature | Gyroscope Seakeeper 16 with Humphrey interceptors. Toy storage |