'WHERE ELEGANCE AND SPEED UNITE IN PERFECT HARMONY.'
A fusion of opulence and nautical prowess.
An ADVENTURE OF A LIFETIME

Introducing the Sichterman T38, the ultimate aluminum yacht that will take you on the adventure of a lifetime. This 38-foot yacht has been expertly designed by renowned yacht designer Cor D. Rover and engineered by Van Oossanen Naval Architecys to provide maximum performance and comfort.
ELEGANCE FORGED IN ALUMINIUM
The aluminium T38 weighs in at 6 tons, making it a fast and agile vessel for any adventure. With Volvo sterndrive engines (2 pieces) D4300 engines, the T38 can reach speeds of over 47 knots, providing an exhilarating ride for those seeking a high-speed yachting experience.
One of the most exciting features of the T38 is the possibilities for a foil assist, allowing the yacht to rise above the water for even faster and smoother sailing. With a depth of only 44 cm, the T38 can easily navigate shallow waters and reach secluded areas that other boats cannot.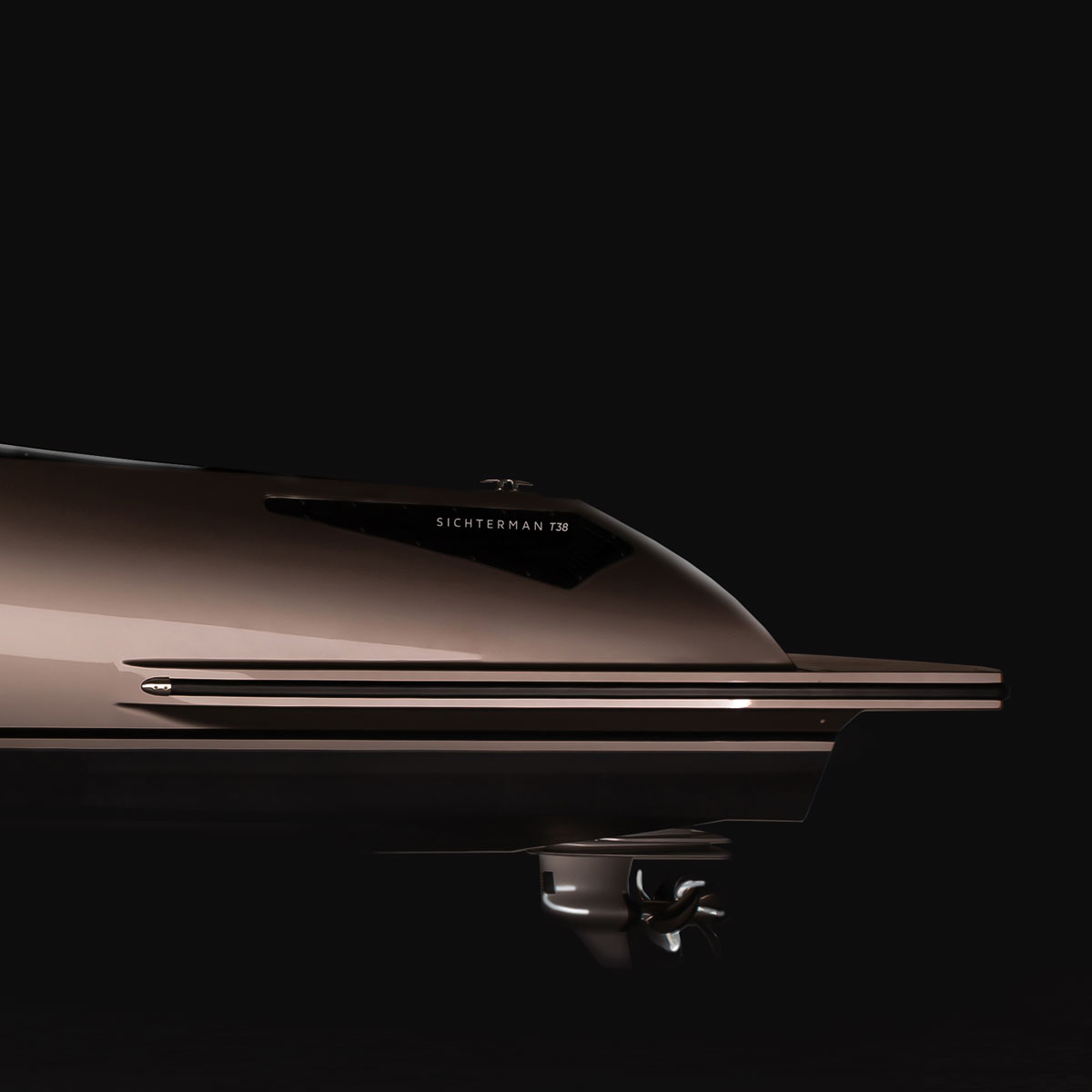 LIMITLESS EXPLORATION AND
UNFORGETTABLE ADVENTURES
The T38 opens up endless possibilities for exploring waterways that other yachts cannot reach. Imagine cruising along the coast, discovering hidden coves and pristine beaches, and then simply drying out on the seabed to enjoy the stunning scenery.
From the luxurious furnishings to the sleek lines of the exterior, every detail of the T38 has been carefully crafted to ensure your comfort and enjoyment. Whether you're seeking adventure or relaxation, the T38 is the perfect vessel for creating unforgettable experiences.
With its certainty and reliability, you can embark on any adventure with confidence, knowing that your trusted companion will be there for you every step of the way.
So come aboard the Sichterman T38 and experience the ultimate yachting adventure with your sure friend by your side. Get ready for a lifetime of memories that you'll treasure forever.
| Specification | Value |
| --- | --- |
| Design | Cor D. Rover |
| Naval Architecture | Van Oossanen Naval Architects |
| Builder | Workumer Yachtservice |
| Design Category | B |
| Construction | Aluminium |
| Length over all | 38 ft (11,58 meters) |
| Beam | 10.96 ft (3,34 meters) |
| Draft | 1.57 ft (0,48 meters) |
| Max. passengers | 8 |
| Specification | Value |
| --- | --- |
| Engine | Volvo Penta D4 300 DPI (Heckdrive) |
| Optional engine | Outboard engines Mercury |
| Top speed | 35 knots |
| Fuel capacity | 550 liters |
| Fuel consumption | Max 52L p/h |
| Fresh Water Capacity | 189 liters |
| Black Water Capaity | 90 liters |
| Hull | Fast Planing Hull in aluminium |
| Cabins | 1 double |